I recently had the pleasure of meeting Sir Richard Branson on his island Necker and what an amazing day it was!
My day started with breakfast on the island and then a mastermind meeting with Virgin Unite who spoke about their an effort to drive an active global community along every one of those 24,902 miles. Using entrepreneurial  approaches and collaboration Virgin Unite is employing business-based solutions to tackle problems like youth homelessness, unemployment and health and environmental crises – the 24902 group is joining forces to drive change in the world. It was a very interesting meeting and inspiring to hear about what the organisation is doing and how we can help and get involved.
After the meeting lunch beckoned and it was my good fortunate (or divine intervention) that I managed to spend some 1-1 time with Richard who drove me to the lunch venue in one of the islands little cars. I shared with him my vision of changing the face of media by incorporating more positive stories which he thought was great. We also discussed the possibility of working together in the future and as we passed some of the many animals on the island he would stop and give me a run down of what they were and their life on the island. I thought this was pretty amazing. A billionaire who made time for me and shared his passions when he really didn't have to. Now I truly understand why he has been so successful. Richard is  great with people and makes time for you no matter who you are and where you come from. That's what makes a successful business person. Giving time to others and really listening to what they have to say.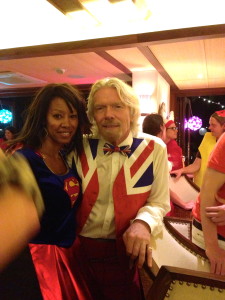 After lunch I spent time with my group and then it was time for the 'superhero' party. Everyone had to go dressed as a superhero and I decided to go as Supergirl. What a party it was! We had so much fun and it was great to see all the costumes. Amazing!
I thoroughly enjoyed my time on Necker and know that I will visit the island again soon. My three takeways from my trip are:
1. Always make time for others – Take the time to connect with people no matter who they are and where they are from. Truly listen to what they have to say. If you have a heart for people then they will have a heart for you.
2. Be careful of judging others – We are all created to be unique and just because some people don't share the same views or beliefs as you do try not to pre-judge them. Everyone deserves to have a voice and share their opinion. Try to love and respect others even if they see the world differently to you.
3. The art of delegation – One of the reasons why Richard Branson is able to enjoy time on his beautiful island is because of delegation. He doesn't run his Virgin empire on his own. He employees successful people to run his companies which gives him the time to do the things he enjoys.